SUPPORT
VETERANS

RESCUE
DOGS

HELP
INMATES
Change lives. Save lives.
Want to be part of it?
Here's how you can help ...
Volunteer
Only with the support of our volunteers and donors are we are able to do what we do.
Here are some of the ways you can help: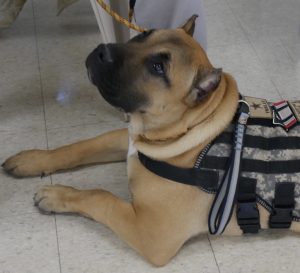 Fundraising – Organize and help with fundraising efforts, i.e., events and social media campaigns.
Outreach – Organize and participate in outreach efforts to educate the public about service dogs, PTSD and what we do. Help us reach veterans who may benefit from our services.
Transport – Drive K9 candidates between locations: shelters, training center, etc.
Media – Are you a great photographer, videographer or graphic artist? Help us tell our amazing story.
Foster – K9s For Camo rescues dogs from shelters, but we have a highly selective process and not all of them graduate. We deal with no-kill shelters, but the number of dogs in need of rescue overwhelms their capacity and they rarely have room to take any dogs back. While these K9s may not be the perfect fit as service dogs, all have that "something special" that made us select them in the first place, and most have some, if not extensive, training, making them highly adoptable. We are committed to helping find these K9s their forever homes, and are looking for volunteers to foster them as we work with shelters to make that happen.
Do you have other ideas about how you can help? Fill out the volunteer application and let us know.
Don't have time?
You can still make a big difference!
VOLUNTEER TIME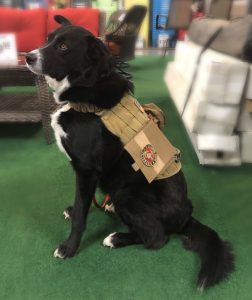 Donate – We only exist because of your donations. Donations fund the costs of rescue, training, transportation, veterinary bills, boarding, dog food, harnesses and much more.
Social media: Follow us on Facebook and Instagram, subscribe to our YouTube Channel. Like, comment on and share our Facebook posts. With 1 or 2 clicks, you can help us spread the word about the amazing work we do. And, most of our posts are about dogs. Who doesn't want to see great stories about dogs helping veterans?
Even if you don't have time to help us organize our fundraising efforts, attend the events, share the information with your friends and network, contribute if you can.
Hold your own fundraiser on social media, sponsor K9s For Camo for your Facebook birthday fundraiser.
Invite us to speak to your organization, group or class.
Amazon "Smile"  – Sign up for Amazon Smile and choose K9s For Camo as your charity. A percentage of all your purchases goes to K9s For Camo, with no additional cost to you.
Volunteer Application
"*" indicates required fields