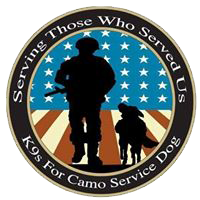 Veteran Application
WE PROVIDE SERVICE DOGS TO VETERANS TO MITIGATE CONDITIONS INCLUDING, BUT NOT LIMITED TO:
Note: The success of our program is, in part, due to the ongoing training and guidance we provide our member veterans throughout the service of their K9s For Camo dogs. To provide this support, we limit the selection of veterans to those within our geographic area.
GET STARTED WITH YOUR APPLICATION
To be considered for a K9s For Camo service dog, please download the application and medical history forms below and return them with the following list of documents to:
K9s For Camo
Attention: Application for service dog 
2733 E Battlefield St. #125
Springfield, MO 65804
or email to:
apply@k9sforcamo.org
#1
K9s For Camo Application
#3
Medical History Form completed by physician
#4
Letter of Recommendation from physician
#5
Two Personal Letters of Recommendation (at least one from someone not related to you)
#6
Letter of Recommendation from your current veterinarian, if applicable
#7
A one to three paragraph autobiography
#8
A picture of you in the military
#9
A current picture of you
Please do not hesitate to contact us with any questions.