Dr. Loren M. Lundstrom, President
Dr. Lundstrom retired from the Air Force at the rank of Lt. Colonel in 2004 after 23 years of service as an intelligence officer. Notable assignments included counterterrorism, war crime investigation and force protection planning while assigned as the IFOR Commander's Intelligence Coordinator in Sarajevo during the Bosnia conflict. Later, he served as the Director of Intelligence for the US 13th Air Force, Guam, conducting operations in Asia and the Pacific.  More recently, Dr. Lundstrom was assigned to the Air Force's Intelligence Directorate in the Pentagon and was on duty there during the 9/11 attack. His final tour of duty was at CIA Headquarters in Langley, Virginia, where as the Executive Officer for the Associate Director of Central Intelligence for Military Support (ADCI/MS), he was involved in the planning and coordination of counter-terrorism and counter-proliferation operations between the Department of Defense and the CIA.   
Lt. Colonel Lundstrom was awarded the CIA's Intelligence Commendation Medal, and his military decorations include two Defense Meritorious Service Medals, five Air Force Meritorious Service Medals, the Joint Service Commendation Medal, the Air Force Commendation Medal, the Air Force Achievement Medal, the National Defense Service Medal, the Armed Forces Service Medal and the NATO Medal for Yugoslavia.  
Currently, as Dean of Student Development at Ozarks Technical Community College, Lundstrom's duties include oversight of the Veteran Services Office, supporting over 700 student veterans each year. Additionally, his department recently won a Department of Education $1.5M "Veterans Upward Bound" grant to provide disadvantaged veterans in the community with college-prep advising and tutorial services.
Dr. Lundstrom also brings an impressive portfolio of nonprofit experience to his leadership of K9s For Camo:
Sunrise Rotary Club of Springfield: 2004-2015 including term as President, Pres-Elect, Director of Service Projects Committee, and 6 years on their Board. United Way of the Ozarks: Agency Relations and Allocations Committee, 2005 to present: Children at Risk panel member and Education Council member. Community Partnership of the Ozarks' Higher Education Committee member, 2014 to present. Graduate of Leadership Springfield, Class XXI, 2006.
Kristy Endacott, Vice-President
Kristy H'Doubler Endacott, a Springfield native, is a founding member of the K9s For Camo Board of Directors. Kristy brings an impressive track record of nonprofit and fundraising experience to the board. Prior to joining the organization, Kristy worked as Executive Director and Chief Operating Officer of Springfield, Missouri's Lost & Found Grief Center and was responsible for the overall management and leadership of the day-to-day operation of the organization. She also worked as a Human Resources Director for the Taylor-Martin Family of Companies in Springfield and as a Senior Human Resources Consultant for CITGO Petroleum Corporation. Additionally, she successfully ran two small businesses.
Kristy has actively served the Springfield area community for over 18 years in a variety of ways: volunteering as the primary grant writer for a local canine rescue organization, serving on the Board of Directors of the Ozarks Literacy Council, volunteering in the Nixa Public Schools, and serving on the personnel board at her church, to name a few.
A graduate of Glendale High School, Kristy earned her Bachelor of Science degree from the University of Tulsa, majoring in Psychology, with minors in Computer Science and Business. She has been married for 29 years to her husband, David. They have three grown children and too many dogs and cats to list!
Jacob Sanders, Treasurer
Jacob Sanders, CPA, is a partner with Elliott, Robinson & Co., LLP in Springfield, Missouri. He has over 15 years of public accounting experience and has worked with several non-profit organizations over the years. In addition, he has held various board positions, including President of the Christian County Children's Charities chapter of Sertoma, after working with a small group of founding members to get this club started.
Jacob's financial knowledge, philanthropic experience and leadership skills, as well as the resources of his 50+ person accounting firm, make him a valuable asset to our organization.
Chelsea Huff, Secretary
Chelsea has worked for the State of Missouri since early 2015, and for three of those years, she worked with the Department of Corrections at the Ozark Correctional Center. While at the correctional center, she volunteered with Puppies for Parole, working with the coordinator of the program. After spending two years volunteering, she was asked to step up and run Puppies for Parole.
Chelsea recognized the great potential of the program, not only in helping save the lives of rescue dogs, but she personally witnessed the positive impact and benefits it brought to the offenders and their rehabilitation. That inspired her to begin working with John Lopez on the beginnings of what is now K9s For Camo. She selected and hired the original crew of trainers for the program and worked to establish its structure, ensuring many elements necessary for the success of the program were in place before she left the department, transferring to the Department of Social Services. Although she is no longer at the correctional center, she remains in daily contact with the current staff, acting as K9 For Camo's primary liaison with the correctional center.
Chelsea left the Department of Corrections to pursue her real passion, helping those struggling with addiction and PTSD. Currently, while working at the Department of Social Services, she is pursuing her degree, majoring in Social Work and Psychology and minoring in Animal Sciences.
Patti Blanton
A native of Pennsylvania, Patti married her high school sweetheart in 1978 and moved to Springfield. Family is important to her, as the mother of two grown sons and Grammie to six adorable grandchildren. She has also been the cohabitant with dogs over her entire life, truly falling in love with the many rescued friends.
As a mathematics teacher in high school and college for many years, she has been allowed to create innovative courses. One such course at Missouri State University is called Multicultural Perspectives from the History of Mathematics. In that class, students do a project to help at least one person in the global society gain access to education. One semester, students in the class chose K9s For Camo as the organization they wanted to promote, encouraged by the fact that there were two veterans enrolled in the class. Following this experience, Patti wanted to continue helping K9s For Camo. Having huge respect for those who have been willing to put themselves in harm's way to protect this country as well as a love of dogs, she really wants to help further the mission of this organization.
Matthew Campbell
Matthew Campbell, a Missouri native, is an experienced leader and entrepreneur with expertise in finance and analytics. After earning his Bachelor of Science degree, majoring in business with an emphasis in Finance and Accounting, he went to work as Director of Finance and Analytics for Dexter Solutions. At Dexter, Matthew was responsible for the financial planning and reporting for the organization, and played a critical role in the creation, continued growth, and management of an analytics driven business intelligence department. Also a successful entrepreneur and business owner, Matthew is the founder and CEO of Lolly Llama, a profitable online retail store based in Missouri, which partners with the nonprofit African Vision of Hope.
With a strong belief in giving back, Matthew has always been involved in his community. He began volunteering at an early age in local community fire departments and has continued to take an active role in several local nonprofits. After watching close members of his family suffer from PTSD after serving our country, Matthew desired to help veterans who suffer from PTSD.  He brings his belief in giving back, experience and passion to help those with PTSD to his work with K9s For Camo.
Cindy Cavagnol
Cindy Cavagnol is a proud mother of 2 boys and wife to Dr. Robert Cavagnol. Cindy is a registered nurse by training and started her career at the Cincinnati Children's Hospital as a pediatric oncology nurse.  During her time in Cincinnati, she also worked as a burn nurse at the Shriner's Hospital for Children and found her true passion in the operating room at the University of Cincinnati as a surgical nurse. Rob and Cindy married in Cincinnati and moved to Camp Lejeune, North Carolina so that Rob could serve as a US Navy surgeon. During that time, Cindy worked as a home hospice nurse and gave birth to two wonderful and active boys, Ty and Dane. After Rob completed his tour of duty, the family moved to Springfield Missouri.  
Rob joined Mercy as a general surgeon and Cindy focused her efforts on caring for the family and volunteer activity. Cindy has served as a volunteer at the Humane Society caring for puppies and kittens awaiting adoption. She also served at Pershing Middle School, volunteering to help the office staff.  Cindy is a fitness enthusiast, has a certification in personal training, and has competed in numerous CrossFit and body building competitions. She continues to focus her efforts on family and fitness. She is active in Mercy's Women with a Mission, a group that is focused on helping support the healthcare needs of our community.  She also serves on the Mercy Gala planning committee. She has fostered numerous pets in her own home and prides herself on being the best mom and wife she can be.
Crissy Fenwick
Crissy, a native of Ohio, attended The Ohio State University where she received a Bachelor of Science degree in Nursing. After graduation, Crissy joined the US Army Nurse Corps and served on Active Duty for 8 years. She specialized in Pediatric and Neonatal Nursing. Crissy pursued a Master's in Business Administration with Business focus. She has worked in Pediatric/Neonatal ICUs, worked as a School Nurse in South Carolina, and continues her work as a Camp Nurse. Currently, Crissy is Palliative Care Nurse for Oxford Health.
Crissy continues her service in the Missouri Air National Guard. She is the Chief Nurse at the 131st MDG at Whiteman Air Force Base, serving the federal and state mission of Missouri, ensuring our Airmen are Mission Ready.
Crissy has been an active volunteer on many projects and fundraisers. She spearheaded and managed a million-dollar Community Playground build in Summerville South Carolina. She served as chairman of Golf Fundraiser for SC Junior League, raising monies for local community groups. Crissy most recently served as President/Treasurer/Co-Chair of Fundraiser of Delta Gamma Alumnae of Springfield, raising monies for Aid to the Blind.
Crissy coached high school Cross Country in South Carolina for 6 years. She combined her passions with her experience and works part time with Fleet Feet, a specialized running store in Springfield. When not working, Crissy enjoys running, hiking, cycling, skiing and scuba diving, anything outdoors with friends.
When given the opportunity to represent the K9s For Camo nonprofit, she jumped at the chance. Serving veterans is a passion for Crissy. Rescuing Dogs, assisting members of society to find a purpose and helping veterans is a triple win. She is honored to serve.
Crissy is married to Jerry, also medical, still serving in the Missouri Air National Guard at 34 years. She is a devoted mother of two sons, one an Active Duty Air Force Pilot and one a businessman and pilot.
Jo Higgins
Jo, a graduate of Forsyth Missouri High School, earned her Bachelor's Degree in Education at College of the Ozarks in 1994. She put herself through school by raising 150 cattle on a 400-acre farm.
Following graduation, she taught school in the Spokane R VII Missouri district from 1994 to 2004.  In addition to teaching elementary education, she coached girls' basketball and taught adaptive PE at the high school level.
In 2005, she stepped away from teaching to make a career change and moved into the financial industry. She earned her Series 7 and Series 63 insurance licenses, and from 2005 to 2011 worked at A. G. Edwards as a Financial Consultant. For the last seven years she has been employed by Bank of Missouri and recently moved to the brand new Nixa branch to help get it started.
Jo is also a member of the Christian County Lions Club. Currently she serves as Second Vice President and is a member of the Sight & Hearing committee.
Jo has always had dogs. She loves animals and being outdoors, and she understands how the companionship of a special dog can help heal life's wounds and build self esteem in children and adults. Part of Jo's motivation for working with K9s For Camo is to honor her father, a World War II Purple Heart recipient, and all our country's veterans.
Jud Poppen
Judson B. Poppen is a Partner at Neale & Newman, LLP, a locally-owned law firm that has been serving the Ozarks for over a century. Jud's legal practice focuses in the areas of business & commercial law and litigation, probate and trust litigation, real estate & construction law, and family law. Jud received his law degree, with honors, from the University of Iowa School of Law in 2001. He graduated from the University of Northern Iowa in 1998 as a Presidential Scholar with a degree in Business Administration. Before joining the firm in 2004, Jud practiced law in the litigation section of Shook, Hardy & Bacon, L.L.P. in Kansas City, Missouri. He became a partner with Neale & Newman in January of 2008. He has served on the Neale & Newman Executive Committee since 2010.
Jud was licensed to practice law in the State of Missouri in 2002, the State of Kansas in 2001, and the United Stated District Court for the Western District of Missouri in 2006. He has been a member of the Springfield Metropolitan Bar Association since 2004. Jud was recently recognized by his peers in the US News & World Report Best Lawyers for 2021 in the area of Commercial Litigation. Jud was also selected as a "Top Rated Business Litigation Attorney in Springfield, MO" by Super Lawyers for 2017, 2018, and 2019, and was previously selected to Rising Stars by Super Lawyers in 2009, 2014 and 2015. Jud was awarded Springfield Business Journal's "40 under 40" in 2008. Jud is a graduating member of Leadership Springfield Class XXIV.
Jud has also worked with a variety of nonprofit organizations. He served on the Board of Directors for the Ronald McDonald House Charities of the Ozarks from 2013-2019. During his time on the board, he served in various capacities, including serving as Board Chairperson, Chairperson-Elect, Executive Committee Member, and Chair of the Planning and Resource Committee. Jud was a member of the Board of Directors of the Tooth Truck from 2016-2017. Jud also served on the Board of Directors for the Big Brothers, Big Sisters of the Ozarks from 2005-2011. During his time on the Big Brothers, Big Sisters board he served in various capacities, including serving as Vice-President, Secretary, Executive Committee Member, and Member of the Taste of the Ozarks Fundraising Committee. Jud served on the Legal Services of Southern Missouri, Justice Fore All Committee from 2015-2017. In addition, Jud has provided volunteer legal services to various other non-profit organizations.
Jack Raidel
Jack is a native Springfieldian, whose family has a long legacy of giving back to the community. After graduating from Drury University, with a Bachelor in Accounting, Jack quickly rose in the ranks in his career and is currently Vice President, Ridewell Suspensions.
His family's love of dogs led him to meeting K9s For Camo founder, John Lopez. After learning of the amazing work the organization is doing, Jack saw the perfect opportunity to help veterans and his community by bringing his business acumen, ties to the Springfield business community and passion for dogs to his work with K9s For Camo.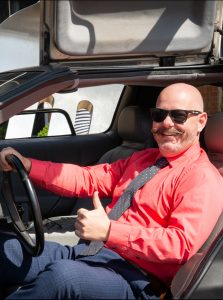 Jeremy Snow
Jeremy S Snow is a homegrown Springfield man that teeter tottered back and forth from Southwest Missouri to Northwest Arkansas before joining the Army at 23 years old. Jeremy served almost seven years in the U.S. Army as Civil Engineer with the 37th Engineer Battalion (Combat) (Airborne), in which he received 17 awards and decorations for his service. After exiting the Army, he moved back to Springfield to pursue his B.S. in Urban Planning, were he focused on community and regional planning, and travel and tourism. A fearless and dedicated professional driven by mission accomplishment, Jeremy has over 16 years of professional experience in economic development, real estate, civil & geotechnical engineering, environmental & city planning, nonprofits, business development & networking, and military leadership skills which allows him to bring a variety of knowledge, skills, and abilities to the companies or organizations he is a part of. Currently, Jeremy just accepted a new role as a Marketing Consultant for KOLR 10/Ozarks Fox and is excited to bring his natural passion for business, people, and dogs together. He is also the Chief Visionary Officer of WeDudes and MenFIXXX. In addition to K9 for Camos, Jeremy serves as an Executive Board Member of the Queen City Beard and Moustache Federation and was recently named one of the Springfield Business Journal's 2019 Men of the Year.
Jeremy inspires people to get things done and view ideas from a different lens with his enthusiastic and charismatic energy. He is honored and thrilled to support the mission and vision of John Lopez, who is not only a friend but a fellow Army battle buddy, as they shared a deployment to Afghanistan together in the same Unit. The K9 for Camos mission is very close to his heart. Jeremy loves to educate people about their dogs in order to create a more stable pack for the owner. Jeremy is aware of the prison system and the importance of rehab and reform due to his Father being in and out of prison his whole life, even briefly spending his own time behind the iron curtain before the Army. Lastly, Jeremy is a Veteran himself who struggles with his own assimilation issues to the civilian world and owes his progress to his faith and his two sweet K9s, Gypsy Rose Snow (American Bulldog / Boxer) and Jon Snow (Siberian Husky).
Jennifer Swope
Jennifer graduated magna cum laude in 1991 from Missouri State University, with a BS in Accounting. She began work with BKD, LLP, immediately after graduation and obtained her CPA, specializing in financial consulting and auditing for the healthcare industry. In 1996, Jennifer moved to Mercy to start the Internal Audit department for the organization. After successfully establishing the department, Jennifer was hired as Vice-President of Finance for Mercy Hospital, where she was responsible for managing all financial aspects of the departments of the Springfield hospital. In 2010, Jennifer was hired by Jordan Valley Community Health Center to serve as Vice-President of Administrative Affairs, which included supervision of all financial and administrative departments of the organization.
After spending a year at Jordan Valley, Jennifer left the corporate world to spend more time with her family. Jennifer is married to Jon Swope and has two daughters, now 14 and 12. Both girls attend Gloria Deo Academy and are home-schooled part-time. Jon and Jennifer live on 11 acres where they enjoy gardening, raising chickens, and caring for bees. They have two gigantic black labs, Rosie and Lilly, who keep the entire family totally entertained and extremely busy.
Jennifer has volunteered with many local charity organizations, primarily assisting with financial setup or cleanup, fundraising events, and serving on the board of directors in many cases. The organizations she has worked with include Springfield Little Theatre, Lost & Found Grief Center, United Way of the Ozarks, Girls on the Run of Southwest Missouri, Wilder Elementary School, and Gloria Deo Academy.
Catherine Trau
Catherine has enjoyed a diverse career specializing in the business and technology of media production and operations. As President, Off Radar Media Group in Los Angeles, she identified  viable entrepreneurial opportunities for investors and managed joint ventures producing content for online distribution. While Director, Technical Operations for MTV Networks, West Coast, she developed innovative technical designs and supervised operations for a myriad of productions, ranging from reality shows on remote islands to live international concert broadcasts and major award shows. Earlier in her career at NBC – New York, she was instrumental in the start-up of CNBC, ran the New York operations of the NBC Seoul Olympics and worked as a video editor for NBC Nightly News, The Today Show and Dateline.
Catherine stepped away from her career in Los Angeles to return to her hometown, Springfield, Missouri, to handle family affairs. While doing so, she continued to pursue her interest in how to best use new technologies to create and distribute compelling media content, adding a master's degree in Learning Design and Technology from San Diego State University to her B.A., Economics, Washington University. Currently, as a founding team member, she is Vice President, Operations and Strategy, at Compat.io, a Springfield based technology company. In addition, she has several independent transmedia educational projects in development.
While living back east, Catherine volunteered with Special Olympics in Greenwich, Connecticut, where she earned recognition for her fundraising role in their annual charity polo matches. More recently, she served as chief strategist on the advisory board for the start-up of Hack4Hope, a St. Louis based nonprofit.
Anyone who knows Catherine knows her dog, Ethel. In addition to her experience, Catherine brings her love of dogs, as well as her respect and appreciation of our military veterans, to her work with K9s For Camo.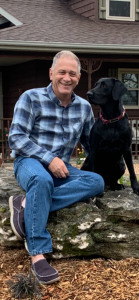 Kevin Welch
Kevin Welch has owned and operated businesses in Springfield for over 30 years. Currently he serves as co-owner and Vice President of Dealer's Auto Outlet in Ozark. Aside from his decades of business experience, Kevin is a professional jokester. He brings a spirit of wit and wisdom to our board that has helped us make better decisions, but more important, to have fun doing what we love. A few years ago Kevin discovered dog training and the deep impact that it can provide for all walks of life. He and Dillon have made an irreplaceable pair on the K9s For Camo team, volunteering countless hours to help develop veteran dog teams with obedience and task training, and completed the rigorous process of becoming a certified trainer at the Fordland correctional facility. His dedication and passion for our cause is making a forever change in the lives of the veterans and our trainers who are on the journey to being their best.
Tera Wilburn
Tera Graven Wilburn is currently working at Results Advertising in Lebanon, Mo. The company was recently bought by her family and both Tera and her husband Tyler are managing the business. Results is a promotional company focusing on putting other businesses in the forefront through their logos and marketing skills. They specialize in screen print and embroidery plus a wide range of promo advertising items.
Tera was previously employed by Mercy Health Foundation in Springfield, MO for the past 5 years. Her first position with Mercy was as Special Events Manager where she coordinated the hospitals first Gala grossing over $350,000. Funds raised by this event were distributed between Mercy Kids, Mercy Heart, Mercy Eye, Orthopedics and Chub O'Reilly Cancer Center. She also launched the Mercy Legends of Golf tournament and Shootout, partnering with Bass Pro, which raised over $100,000. She completed her term as a Senior Development Officer.
She and her husband reside in Lebanon and enjoy their families, travel, and serving local charities and attending community events.