Testimonials
Read about lives transformed by our K9s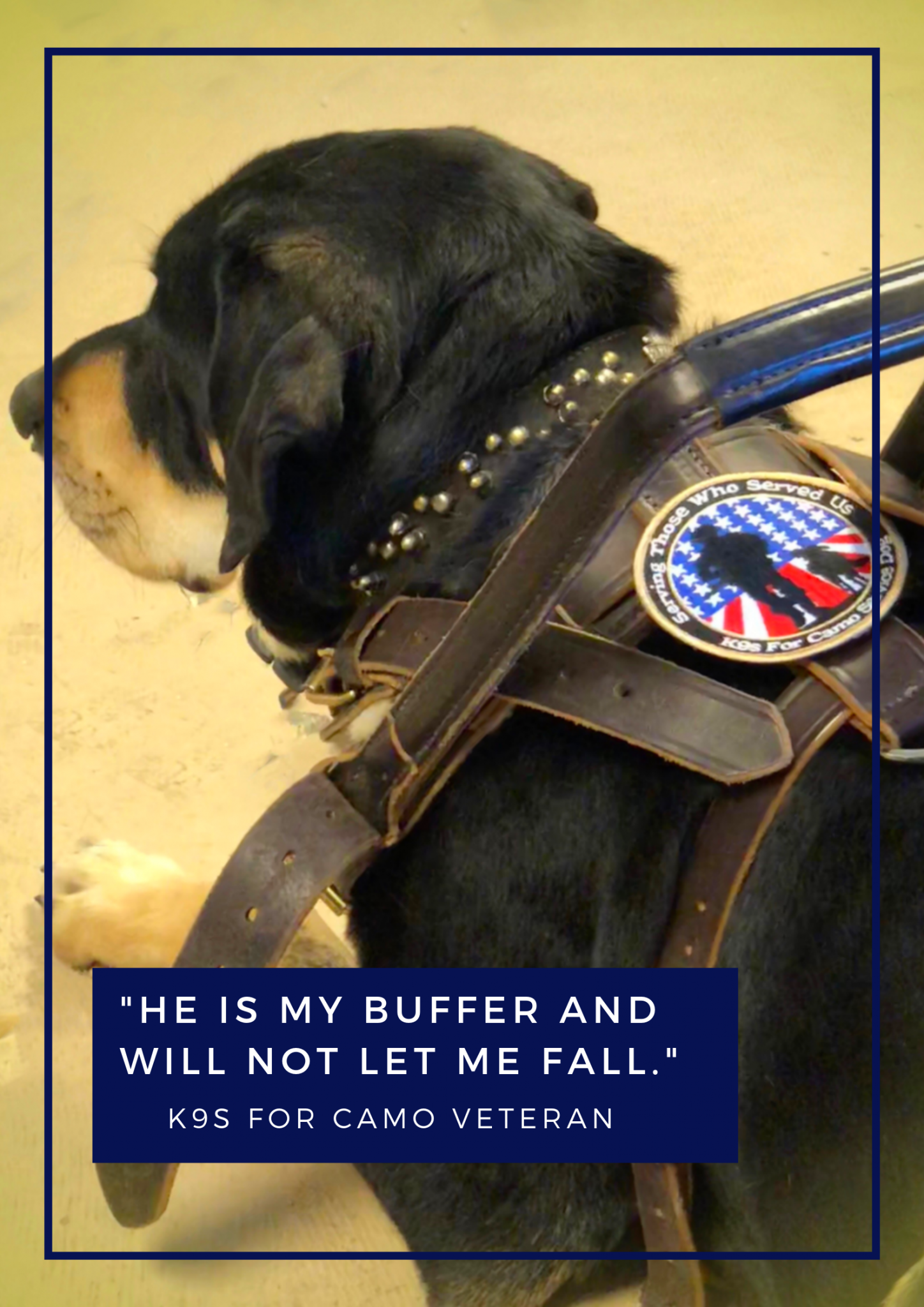 TESTIMONIAL 1
Vietnam Veteran
I am a Vietnam veteran who faces many issues. I have PTSD, neuropathy, fibromyalgia, lymphedema, and just recently found out that I have Parkinson's disease. I have horrible nightmares and I'm in pain. Sometimes I feel like I live in a whirlpool. The pain makes the stress and nightmares worse and the nightmares make the pain worse. Parkinson's is going to make a lot of my issues worse. I have had most of these issues since I came back from Vietnam. I was going around with anger, pain and just plain frustration with life. I couldn't keep a job because I would always get into huge disagreements with co-workers and, finally, with the boss. This was only making my life more miserable and frustrating. All this was going on and I didn't have clue what was happening to me. I didn't want anything to do with the VA for the longest time, but a friend of mine finally convinced me to go, which I did in 2007. Shortly after getting appointments with the VA things finally starting falling in place and I started to have a clearer understanding of what was happening to me because of Vietnam. I was finally getting some help with all of the issues that were causing me so many problems.
I started having problems with balance and falling in late 2016. I had my shower adapted with handles and a seat so I wouldn't fall. It took over a year before the VA finally recognized that I had some serious issues. I was getting worse almost daily and in a short time went from having to use a cane to having to use a walker. I give you my background so you will be able to have some idea of the issues I was dealing with. March 5th of last year, Moose came into my life. Moose is very in tune with my body, both mentally and physically.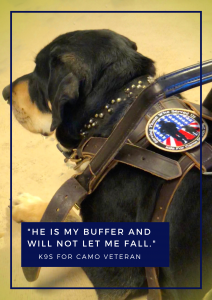 I will always have all the issues that I had before Moose, but I don't use my cane or walker anymore because of Moose. Moose is a big strong dog and he is my buffer and will not let me fall. Moose has taken away some of the stress of going out in the community and always being on alert.  In fact, I didn't go many places before I got Moose. Now, because of him I'm more at ease when out in the community. I still have nightmares, but when they get really bad Moose will wake me up and comfort me. Moose is an amazing addition to my family and I wish I had him years ago. I love this caring and giving animal and know he will continue to be a blessing to my mental and physical health.  Thank God John Lopez and K9s For Camo were able to find Moose and get him and me together. I am thankful every day.
TESTIMONIAL 2
K9s For Camo Veteran
I am a 30-year-old Veteran who has a service dog named Lilly. I was able to get this dog thanks to John Lopez and K9s For Camo. I separated from the USAF (United States Air Force) due to medical issues. I receive treatment for Borderline Personality Disorder, Generalized Anxiety Disorder, Major Depressive Disorder, Panic Disorder, and Post-Traumatic Stress Disorder. By Spring, 2016, I was on SSRIs (antidepressants), four anti-anxiety pills and two sleeping pills. Because of the stress these issues caused me I was using two inhalers for asthma (which was exacerbated by my anxiety and panic attacks), two blood pressure meds and high dose insulin for my diabetes. In August of 2016, I was allocated Lilly and we started our training. The effects of Lilly were pretty much instantaneous. Almost immediately I felt happier and my life felt like it was not impossible anymore.
By October of 2016, I was off the asthma meds. My anxiety attacks went from 4-6 a day to around 4-6 a week. I stopped needing my sleeping pills and my anti-anxiety meds went from four pills a day to one a day. When Lilly started working with me in public and going to nursing school with me, my blood pressure normalized and I was able to stop taking my diabetes pills too. After Lilly had been with me for 1.5 years, I graduated nursing school. There is no way I could have done that without her. I have been able to attend places and events I use to avoid with a passion. This year Lilly and I have been to an amusement park, two St. Louis baseball games, multiple HS football and basketball games and our first concert.This is all because of John Lopez and K9s For Camo. He helped me find Lilly, train her to support me and continues to work with us weekly as our training is always moving forward! Lilly has gotten me from always having a plan on how I want to end my life, to having a plan on what I want to do next with my life. And that's because of John and Lilly.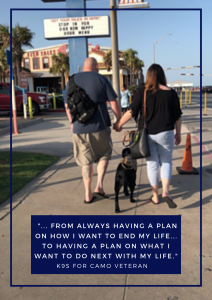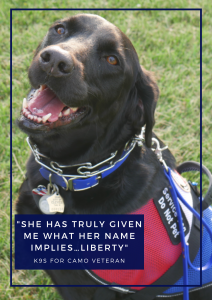 TESTIMONIAL 3
Liberty Provides a Normal Life
This morning, I stood in one of the largest aquariums in Missouri, surrounded by hundreds of kids and parents alike, enjoying the beauty of the fish swimming about as a testament to the success story.  A success story that started with a simple phone call from K9s For Camo. Less than 6 months ago, I was blessed with my service dog, Liberty, who was given to me by this wonderful organization whose mission is so noble. I was unable to spend more than a few minutes of time in public at any given time before this Labrador entered my life. She has since formed an unbreakable bond with me and has offered me the ability to go out in public and live a happy normal life.
Liberty was specially trained for my specific needs as a disabled vet and offers a variety of services great and small. She is trained to assist me with my seizures, ensuring I don't hurt myself if one hits me suddenly. After a seizure, she gets help when help is required.  Liberty also provides me a means to control my PTSD when it flares up, such as when I am at the aquarium.  She is trained to assist me in picking up objects off the ground, turning on lights, opens doors for me, and can even tell when I am having nightmares and wakes me up from them.
Since Liberty became part of my household, I have found that while I take very good care of her, she takes very good care of me as well. I can't imagine life without her. She has truly given me what her name implies… Liberty.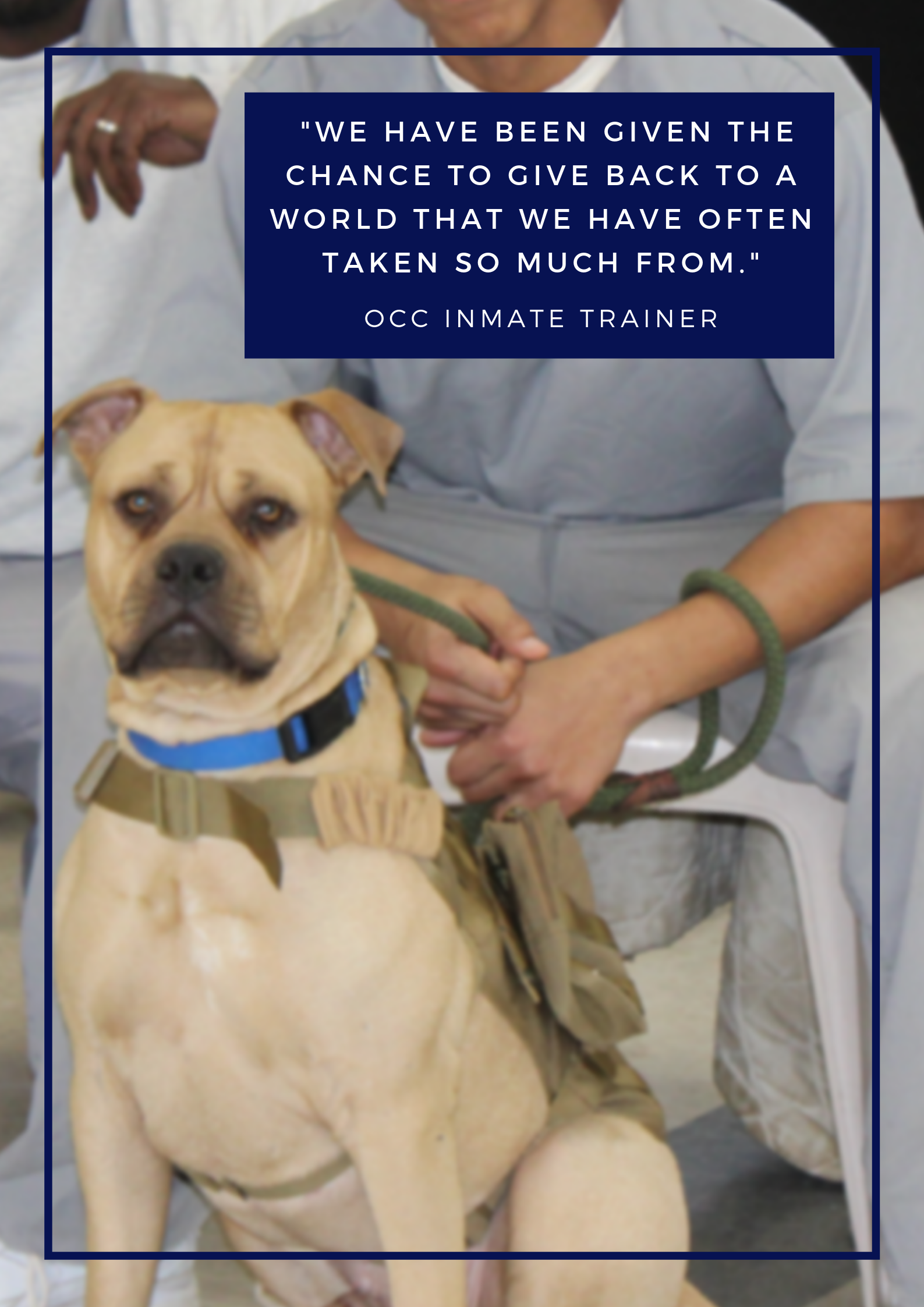 TESTIMONIAL 4
Providing Pride and Optimism
Living the lives many of us have lived, there aren't many things to look back on and be proud of. Sometimes, from prison, it is hard to stay on the optimistic side of things. That's what this program is for us – something positive that we have in a world of chaos and negativity. Knowing that the work we do is going to help someone, let alone a veteran who fought for our country, gives us a sense of accomplishment that many of us haven't felt in a while, which is gratifying beyond belief. Not to mention we are learning a trade which is in high demand in society.
The cool thing is that almost all of us had no prior dog training experience before this program. All of us started this endeavor together and we have developed a genuine sense of camaraderie. Some of us were doubtful about how successful this program would be. I mean, don't get me wrong – trying to teach a dog to get under your head as you fake a seizure can be incredibly frustrating, but the moment the dog starts learning and completing tasks, all the frustration and hard work is completely worth it. I personally plan on continuing training dogs on my release, which has given me the sense of purpose I have desperately needed for years. K9s For Camo really is a gift to us. We have been given the chance to give back to a world that we have often taken so much from. Thank you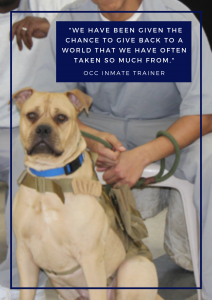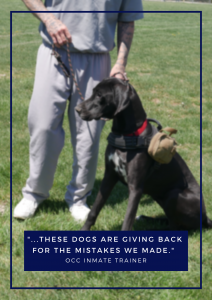 TESTIMONIAL 5
Inmates Find a Purpose
No one truly knows our pasts, just as no one knows the pasts of the rescue dogs we train for K9s For Camo. Giving these dogs a second chance is all that really matters to me. They could have been abused, neglected or thrown out on the streets to starve.
There is no better feeling than to take that all away from them. To teach and train them so that they too can pay it forward by changing and possibly saving the lives of the veterans they serve. By doing the tasks that we taught them to  do, these dogs are giving back for the mistakes we made.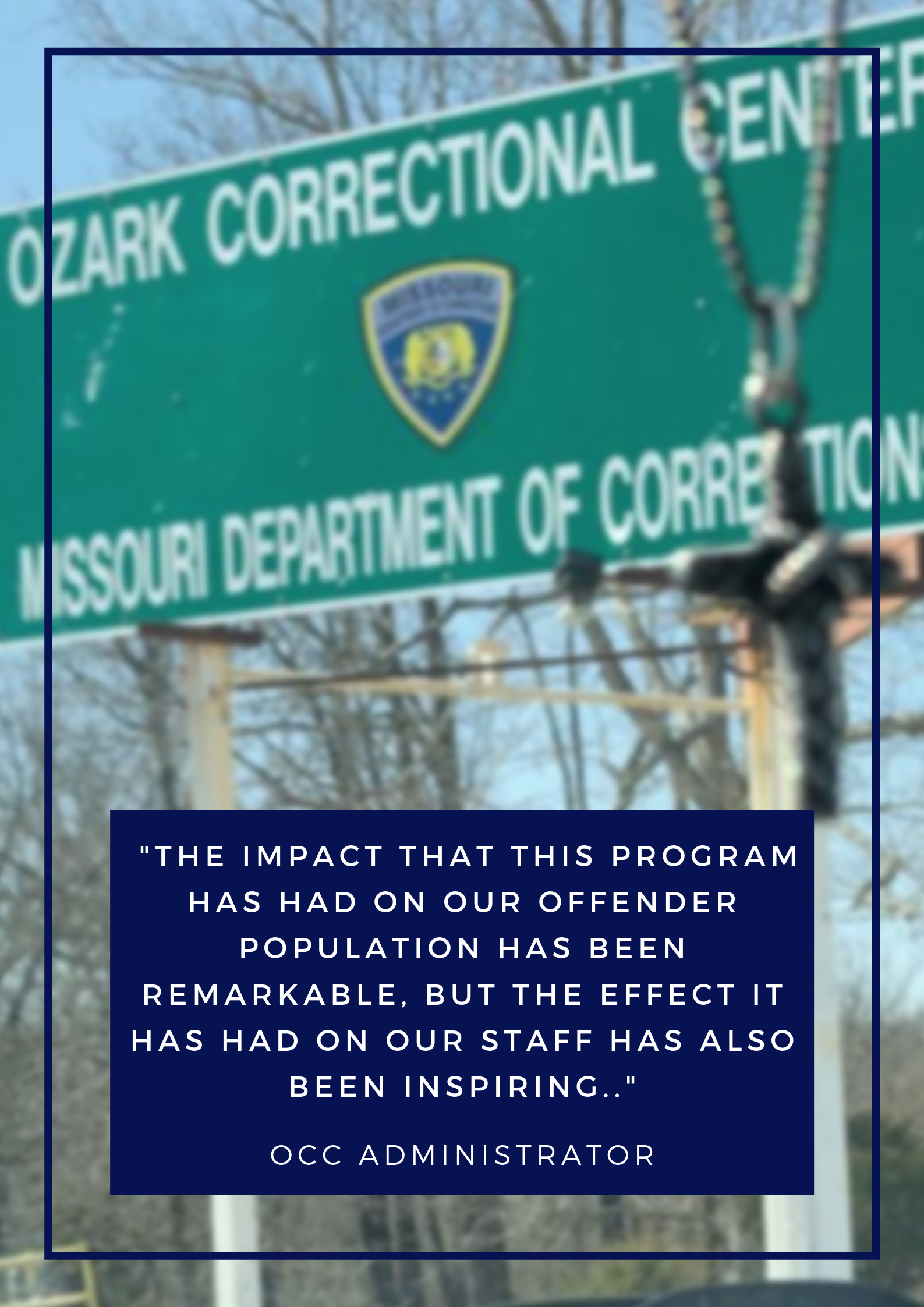 TESTIMONIAL 6
Correction Facilities See Positive Impact
The K9s For Camo program has had a tremendously positive impact at our facility, Ozark Correctional Center. It has affected not only our offender population, but has  also had an impact on our staff throughout all departments of the facility. K9s For Camo has affected so many different areas in our facility and continues to reach out to more and more people as it develops.
Throughout the Department of Corrections there are many different levels of criminality in our offender population. K9s For Camo has brought a sense of pride to our offender population. As being former thieves, drug addicts and society outcasts, pride in themselves is not something our inmates come by easily. In that lifestyle there is more regret, disappointment, and shame than anything else. To give an offender something to do to repay their debt to society, something positive, something to give back to people, it can completely change the course of their life.  One of the best ways to rehabilitate them into productive and upstanding citizens is to give them the opportunity to participate in a program such as this. The positive encouragement, counseling, and one on one time that they receive in this program is really powerful. K9s For Camo is truly changing lives. As my offender trainers put it "There is no better feeling than being able to give back for the mistakes that we have made."
These trainers must be role models at all times to their peers. They must be respectful, rule abiding men. Being in this program has cleaned up the act of several individuals who are now trainers, and also gives new offenders a reason to strive to be better so that they may have a chance to join K9s For Camo. It gives them something positive to focus on in an environment that is primarily negative.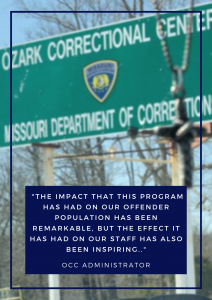 As for the offender handlers, there has been improvement in their work ethics, attitude, and class participation since the start of K9s For Camo. Also, it has enforced a strong sense of family amongst the handlers. They truly are their brothers' keepers. You don't see that a lot in prison, you see a lot of extortion, disrespect, and segregation. This bond that they have developed helps to hold each other accountable, which is something great to have in such a place as prison.

 The impact that this program has had on our offender population has been remarkable, but the effect it has had on our staff has also been inspiring. The program has given our facility something to cherish and take pride in. To help serve those that have served our country is an outstanding feeling. As a whole facility, we are grateful to have been chosen for such an opportunity as K9s For Camo.