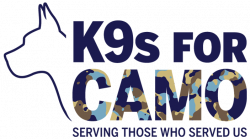 Privacy Policy
This Privacy Policy describes how K9s For Camo Inc. ("K9s For Camo," "us," "we," or "our"), uses and protects personal information that you give us or that we collect when you use this website (the "Site"). By using the Site or submitting your personal information to us, you accept the terms of this Privacy Policy and consent to our use of your personal information as provided in it.
We are committed to ensuring that your privacy is protected. If you provide personally identifiable information to us, such as upon registration with the Site, we will use that information only in accordance with this Privacy Policy.
We may amend or modify this Privacy Policy at any time in our sole discretion, with or without notice to you. Such amendments and modifications shall be effective upon posting on the Site. You are responsible for periodically reviewing this Privacy Policy, and your continued use of the Site following the effective date of any amendment or modification shall indicate your acceptance of the amended and/or modified provisions.
PERSONALLY IDENTIFIABLE INFORMATION
We will use personally identifiable information about you, such as your name, contact information, e-mail address, and other demographic information that you provide us, in the administration of our business, in providing customer service, and in expanding and improving the Site and our products and services. We may use such information to send you notices about important changes to the Site and information about your registration, our products and services, items you have purchased, and other subjects for which you have requested information or that we think may be of interest to you. If we send you a promotional e-mail, we will include in the e-mail an option to unsubscribe from future promotional e-mail communications. We may retain and use for the above-described purposes the content of any e-mail communication that you send to us or to the Site and any information that you post to the Site.
NON-PERSONALLY IDENTIFIABLE INFORMATION
We may also collect information about your use of the Site using standard technology, including, for example, "cookies," web server logs, and/or IP addresses. Such information is not collected or stored in a personally identifiable format. A "cookie" is a small file that a website places on your hard drive to analyze your use of that website. We use such information to improve the Site and our products and services. Most Internet browsers automatically accept "cookies," but you can modify your browser settings to decline them. Such modification may, however, prevent your ability to fully use the Site.
DISCLOSURES TO THIRD PARTIES
We may disclose the information collected about you to our third-party contractors and partners relating to their performing services or other activities in support of our services and/or our businesses, or their completing or confirming on our behalf a transaction or series of transactions that you conduct with us. Examples include third parties which may fulfill orders, deliver packages, send postal mail and/or e-mail, analyze data, provide marketing research and assistance, process credit card payments and provide customer service. These contractors and partners are restricted from using information that identifies you (excluding any information that is aggregated or otherwise reasonably de-identified) in any way other than to provide services for us. We may provide personally identifiable information about you to these third parties in connection with such relationships, and will require them to use such information only for the purpose for which they are assisting us. Your personal information may also be transferred to a third party in the event such party acquires or merges with K9s For Camo. We reserve the right to disclose your personal information to third parties as required by law or subpoena, to comply with a legal proceeding, process, or order, or to protect our legal rights or the safety of us or others when we believe that such disclosure is necessary.
SECURITY
In order to prevent unauthorized access to or disclosure of your personal information, we have in place reasonable physical, electronic, and managerial procedures to safeguard and secure the information that we collect. Due to factors beyond our control, however, we cannot fully ensure that third parties will not access, receive, or intercept your personal information without authorization. As an added measure of protection, you should not send us private information via e-mail. Certain areas of the Site may use Secure Sockets Layer (SSL) to allow you to securely send us information. These areas will have a URL beginning with "https" instead of "http."
LINKS TO AND FROM OTHER WEBSITES
This Site may contain links to other third-party websites, and third-party websites may link to this Site. Such websites are not governed by this Privacy Policy. We have no control over such websites or the use of your personal information once you access such websites, and we are therefore not responsible for protecting the privacy of your personal information once you access such websites and/or leave this Site. You access such third-party websites at your own risk, and you should review each website's privacy policy.
ACCESS AND CHANGES TO YOUR INFORMATION
You may request further information about, or request access, changes, or deletions to your personal information, by contacting us at: info@k9sforcamo.org
TERMS AND CONDITIONS OF USE
This Privacy Policy is a part of the Terms and Conditions of Use for this Site. By using this Site, you agree to be bound by such Terms and Conditions of Use, which can be accessed by clicking this link. View K9s For Camo's Terms & Conditions of Use
Last modified July 22, 2019.